Rock a Bye Baby Lyrics English Translation: Rock a Bye Baby is a Hindi song from the Bollywood movie Mimi which has vocals by Julia Gartha and Khatija Rahman. The music is composed and directed by AR Rahman and Amitabh Bhattacharya wrote Rock a Bye Baby Lyrics.
The English part is written by Julia Gartha.
The music video of the song features Kriti Sanon, Pankaj Tripathi, Evelyn Edwards, Sai Tamhankar, Aidan Whytock, Supriya. Sony Music India released the song under their banner.
Singer: Julia Gartha, Khatija Rahman
Movie: Mimi
Lyrics: Amitabh Bhattacharya, Julia Gartha
Composer: AR Rahman
Label: Sony Music India
Starting: Kriti Sanon, Pankaj Tripathi, Evelyn Edwards, Sai Tamhankar, Aidan Whytock, Supriya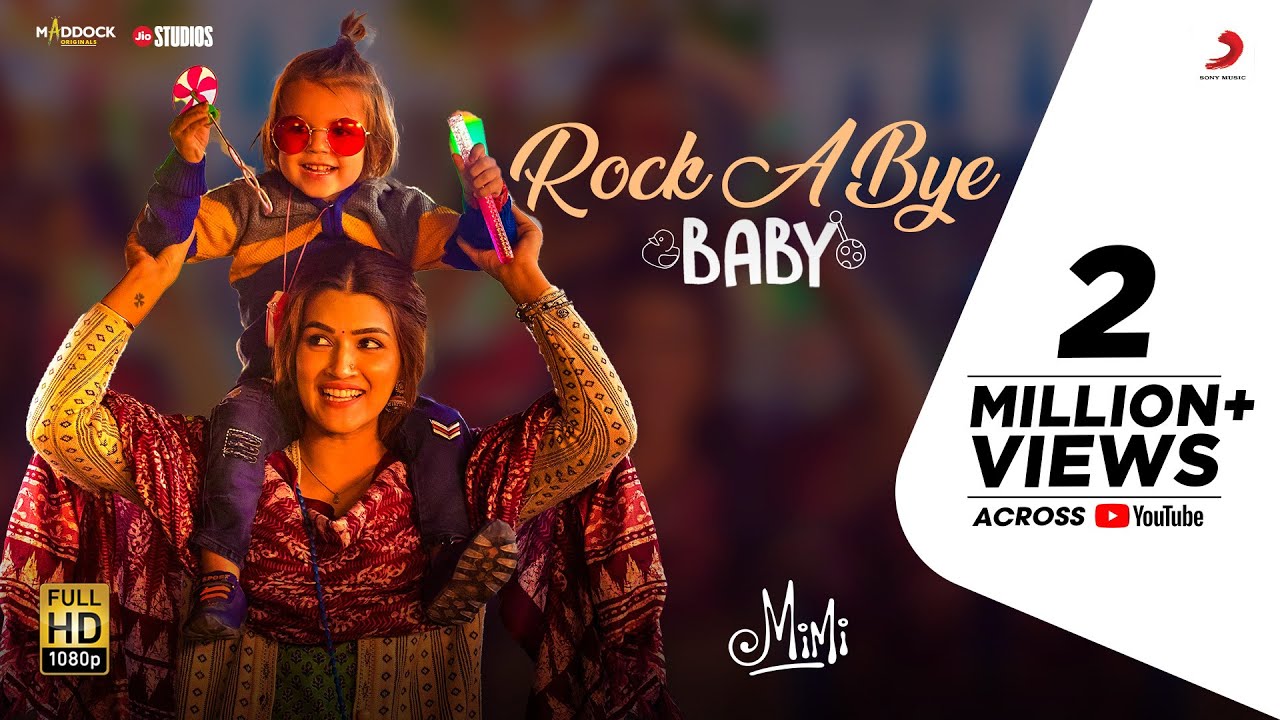 Rock a Bye Baby Lyrics
Rock a bye baby
Rock a bye baby
My blue eyed son
Hush a bye baby
Don't you cry baby
My blue eyed son
They say … oh that what you give is yours
Khele godi mein chanda re
In the middle of the night I still think of you
I see you in my eyes how will I get through
All I can say is I'm sorry
Oh my blue eyed son
Oh my blue eyed son
Rock a bye baby
Rock a bye baby
Rock a bye baby
Mere hote tujhpe main aanch na aane doon
Khushiyon ki dopehri ki saanjh na aane doon
Gagan ki jhalar mein jitne sitaare hai
Teri hi toh mutthi mein simte woh saare hai kyun
Rona tujhe aaya hai
Kisne sataya hai
Kahe murjhaya hai tu
Meri muskan le le
Apne shikan de de
Naram chhuan le le tu
De de khushboo aur gulistan le le tu
Rock a bye baby
Rock a bye baby
My blue eyed son
Hush a bye baby
Don't you cry baby
My blue eyed son
They say … oh that what you give is yours
In the middle of the night I still think of you
I see you in my eyes how will I get through
All I can say is I'm sorry
Oh my blue eyed son
Oh my blue eyed son
Oh my blue eyed son
Oh my blue eyed son
Oh my blue eyed son
Oh my blue eyed son
Rock a Bye Baby Lyrics English Translation Meaning
Rock a bye baby
Rock a bye baby
Rock a bye baby
Rock a bye baby
My blue eyed son
My blue eyed son
Hush a bye baby
Hush a bye baby
Don't you cry baby
Don't you cry baby
My blue eyed son
My blue eyed son
They say … oh that what you give is yours
They say … oh that what you give is yours
Khele godi mein chanda re
My moon is playing in my lap
In the middle of the night I still think of you
In the middle of the night I still think of you
I see you in my eyes how will I get through
I see you in my eyes how will I get through
All I can say is I'm sorry
All I can say is I'm sorry
Oh my blue eyed son
Oh my blue eyed son
Oh my blue eyed son
Oh my blue eyed son
Rock a bye baby
Rock a bye baby
Rock a bye baby
Rock a bye baby
Rock a bye baby
Rock a bye baby
Mere hote tujhpe main aanch na aane doon
I'll protect you from everything while I live
Khushiyon ki dopehri ki saanjh na aane doon
I won't let the afternoon of your joy turn into dusk
Gagan ki jhalar mein jitne sitaare hai
All the stars that exist in the fabric of the sky
Teri hi toh mutthi mein simte woh saare hai kyun
Why are they all inside your fist
Rona tujhe aaya hai
Why are you crying
Kisne sataya hai
Who's troubling you
Kahe murjhaya hai tu
Why are you upset
Meri muskan le le
Take my smile
Apne shikan de de
Give me your sadness
Naram chhuan le le tu
Take all the softness
De de khushboo aur gulistan le le tu
Give me your fragrance and take the garden
Rock a bye baby
Rock a bye baby
Rock a bye baby
Rock a bye baby
My blue eyed son
My blue eyed son
Hush a bye baby
Hush a bye baby
Don't you cry baby
Don't you cry baby
My blue eyed son
My blue eyed son
They say … oh that what you give is yours
They say … oh that what you give is yours
In the middle of the night I still think of you
In the middle of the night I still think of you
I see you in my eyes how will I get through
I see you in my eyes how will I get through
All I can say is I'm sorry
All I can say is I'm sorry
Oh my blue eyed son
Oh my blue eyed son
Oh my blue eyed son
Oh my blue eyed son
Oh my blue eyed son
Oh my blue eyed son
Oh my blue eyed son
Oh my blue eyed son
Oh my blue eyed son
Oh my blue eyed son
Oh my blue eyed son
Oh my blue eyed son