Aila Re Aillaa Lyrics English Translation: Aila Re Aillaa is a Hindi song from the Bollywood movie Sooryavanshi which is sung by Daler Mehndi. The music is composed and directed by Tanishk Bagchi and Shabbir Ahmed wrote Aila Re Aillaa Lyrics.
The original song is from the film Khatta Meetha which is composed by Pritam. Nitin Raikwar wrote original lyrics of the song.
The music video of the song features Akshay Kumar, Ajay Devgn, Ranveer Singh, Katrina Kaif. T-Series released the song under their banner.
Singer: Daler Mehndi
Movie: Sooryavanshi
Lyrics: Shabbir Ahmed
Composer: Tanishk Bagchi
Label: T-Series
Starting: Akshay Kumar, Ajay Devgn, Ranveer Singh, Katrina Kaif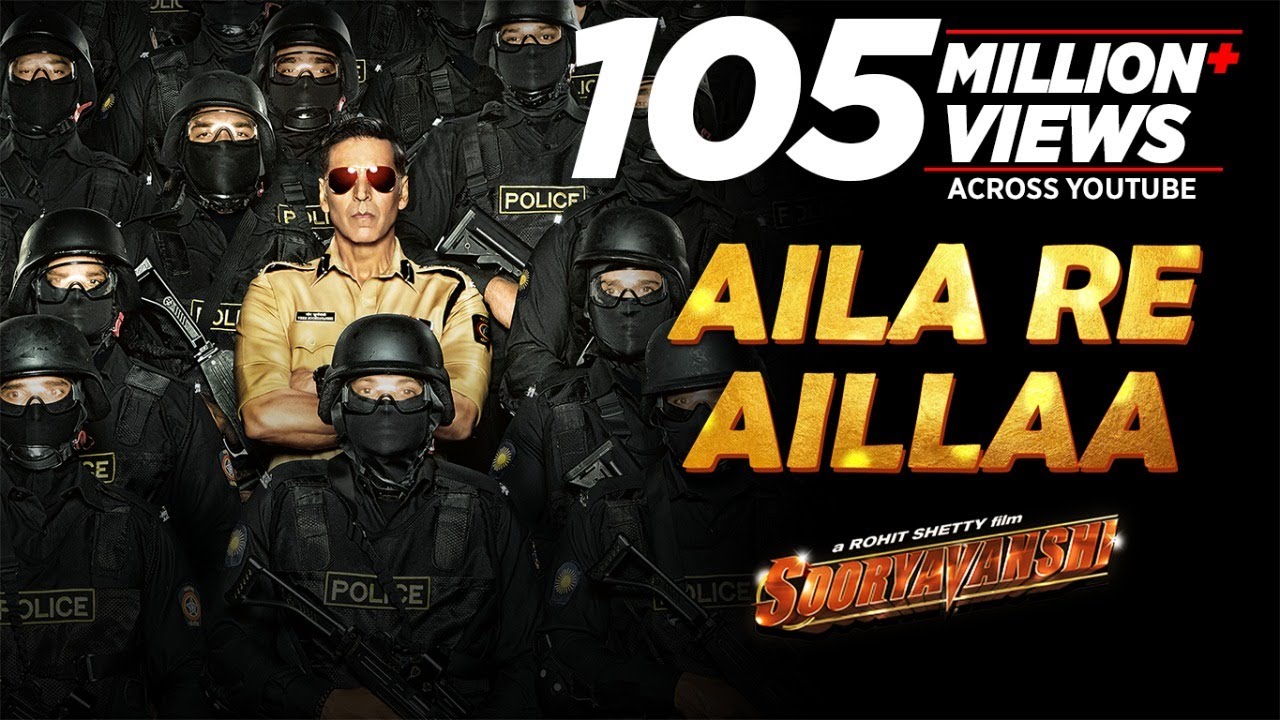 Aila Re Aillaa Lyrics
Aila re aillaa
Haat tuchya maila
Rang chadha hai
Rang chadhega
Band baja hai
Band bajega
Jashan chala hai
Jashan chalega
Yeh ho dagar woh ho dagar
Main na rukega
Aila re aillaa
Haat tichya maila
Aila re aillaa
Haat tichya maila
Toda toda hum usko toda
Joh bhi humse bhidega
Chhoda chhoda humne na chhoda
Joh bhi humse judega
Datke khade hai
Jamke ladega
Joh bhi adega
Woh paani bharega
Hai sher sipahi
Hum toh na darega
Yeh ho dagar woh ho dagar
Main na rukega
Aila re aillaa
Haat tichya maila
Aila re aillaa
Haat tichya maila
Singham … Singham
Aata majhi satakli
Aila re aillaa
Haat tuchya maila
Aila Re Aillaa Lyrics English Translation Meaning
Aila re aillaa
Oh my God
Haat tuchya maila
What a damn thing to happen
Rang chadha hai
We're already coloured
Rang chadhega
We'll get even more coloured
Band baja hai
The drums are beating
Band bajega
The drums will continue to beat
Jashan chala hai
A celebration has started
Jashan chalega
The celebration will continue on
Yeh ho dagar woh ho dagar
I'll go from this street to that street
Main na rukega
I won't stop
Aila re aillaa
Oh my God
Haat tichya maila
What a damn thing to happen
Aila re aillaa
Oh my God
Haat tichya maila
What a damn thing to happen
Toda toda hum usko toda
We'll break the bones
Joh bhi humse bhidega
Of the person who fights with us
Chhoda chhoda humne na chhoda
We'll never leave the side
Joh bhi humse judega
Of the person who connects with us
Datke khade hai
We're standing strong
Jamke ladega
We'll fight in a brave manner
Joh bhi adega
Whoever is going to confront us
Woh paani bharega
He's going to go fill water
Hai sher sipahi
We're lion like soldiers
Hum toh na darega
We won't fear anyone
Yeh ho dagar woh ho dagar
I'll go from this street to that street
Main na rukega
I won't stop
Aila re aillaa
Oh my God
Haat tichya maila
What a damn thing to happen
Aila re aillaa
Oh my God
Haat tichya maila
What a damn thing to happen
Singham … Singham
Singham … Singham
Aata majhi satakli
I'm angry now
Aila re aillaa
Oh my God
Haat tuchya maila
What a damn thing to happen