Nachlai Goriye Lyrics: This Punjabi song is sung by Himmat Sandhu. The music is composed by Desi Frenzy. Rahul Chahal directed the track whereas Himmat Sandhu, Aneet K chauhan are featured in the music video of the song.
Jang Dhillon penned Nachlai Goriye Lyrics.
The track was released under music label Himmat Sandhu.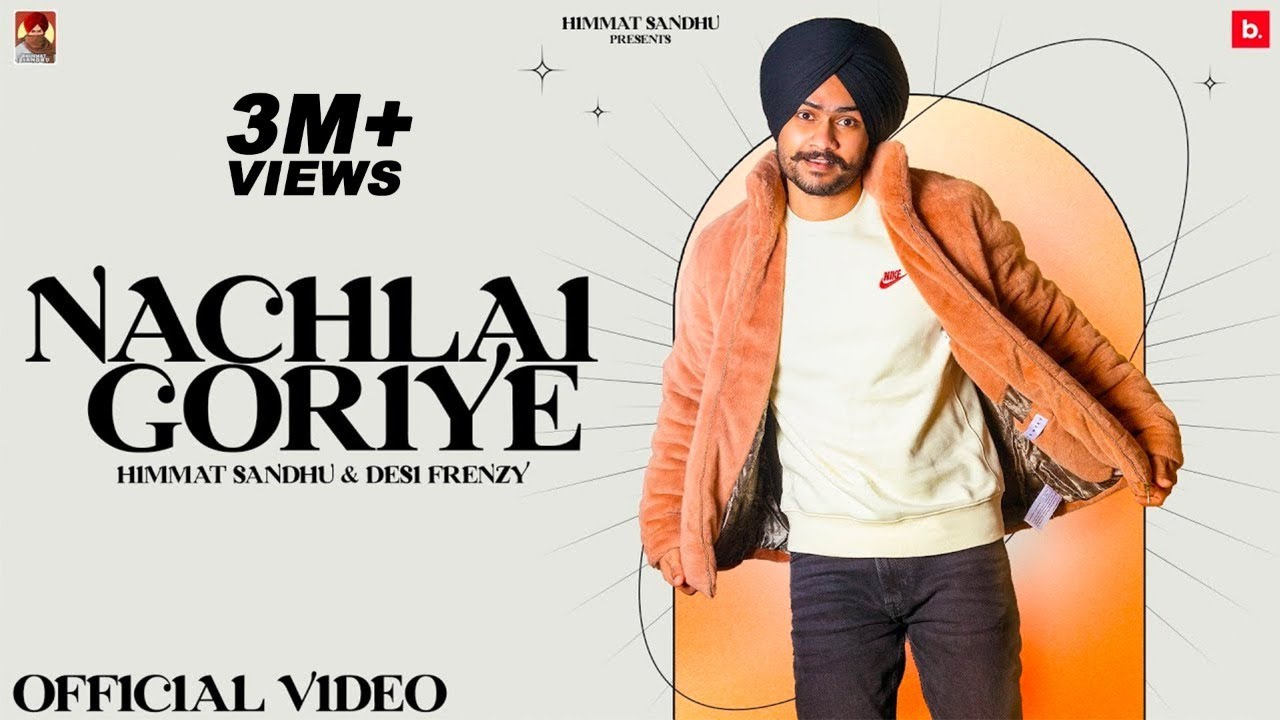 Singer:                Himmat Sandhu
Movie:                 –
Lyrics:                Jang Dhillon
Composer:        Desi Frenzy
Label:                Himmat Sandhu
Starting:              Himmat Sandhu, Aneet K chauhan
Nachlai Goriye Lyrics – Himmat Sandhu
Ho jiddi mere kol dunali ohdi teri gutt kali
Utton round rehnda chadheya rubber band ni
Jehde darji ne koke suit kare ok ok
Chunni udde jivein karda jahaz land ni

vadde ber jiddi akh gol chhalle jinna lakk
Tera kach ranga nakk lishkora maarda
Ni aaja nach lai goriye

Jatt boliyan di pand tere siron vaarda
Ni aaja nachlai goriye
Jatt boliyan di pand tere siron vaarda
Ni aaja nach lai goriye

Body shape Coke jehi te
Muglan di top jehi ni
Ang ang bhareya barood ni
Gale naal ghani nache
Gallan te jawani billo
Addi teri patt di khrood ni

Thodi pittal da bhanda kad jantar da dhanda
Pittal da bhanda kad jantar da dhanda
Mainu samaj na ranjha Jehda majha char da
Ni aaja nach lai goriye

Jatt boliyan di pand tere siron vaarda
Ni aaja nach lai goriye
Jatt boliyan di pand tere siron vaarda
Ni aaja nach lai goriye

Nach lai goriye nach lai goriye
Nach lai goriye ni aaja nach lai go

Bull jama gulkand tera puneya da chand
Jivein mehlan vich jage laltain ni
Kade jhaakni kaleja tikha eyebrow da nedda
Teri taur diyan hirniyan fan ni

Daule utte kala dhaga launda najron suhaga
Utte kala dhaga launda najron suhaga
Gussa hukam da baada phire vaili raad da
Ni aaja nach lai goriye

Jatt boliyan di jatt boliyan di
Jatt boliyan di pand tere siron vaarda
Ni aaja nachlai goriye
Jatt boliyan di pand tere siron vaarda
Ni aaja nachlai goriye

Nach lai goriye nach lai goriye
Nach lai goriye ni aaja nach lai

Rang jungli anari 21 phullan jinna bhari aa
Abu Dhabi di khajur jidda kad ni
Jutti marka Lahore rehndi chichi chidde aur
Kanni jhumke Banaras de thug ni

Ho tu taan total cutie jung Dhillon di duty
Total cutie Jung Dhillon di duty
Gunni geetan ch beauty janda kann tharda
Ni aaja nach lai goriye

Jatt boliyan di pand tere siron vaarda
Ni aaja nach lai goriye
Jatt boliyan di pand tere siron vaarda
Ni aaja nach lai goriye

Nach lai goriye, nach lai goriye
Nach lai goriye ni aaja nach lai go