Hoye Ishq Na Lyrics English Translation: Hoye Ishq Na is a Hindi song from the Bollywood movie Tadap which is sung by Pritam, B Praak, Akashdeep Sengupta and Dino James. The music is composed and directed by Pritam and Irshad Kamil wrote Hoye Ishq Na Lyrics.
The rap part is written by Dino James.
The music video of the song features Ahan Shetty, Tara Sutaria, Saurabh Shukla. T-Series released the song under their banner.
Singer: Pritam, B Praak, Akashdeep Sengupta, Dino James
Movie: Tadap
Lyrics: Irshad Kamil
Composer: Pritam
Label: T-Series
Starting: Ahan Shetty, Tara Sutaria, Saurabh Shukla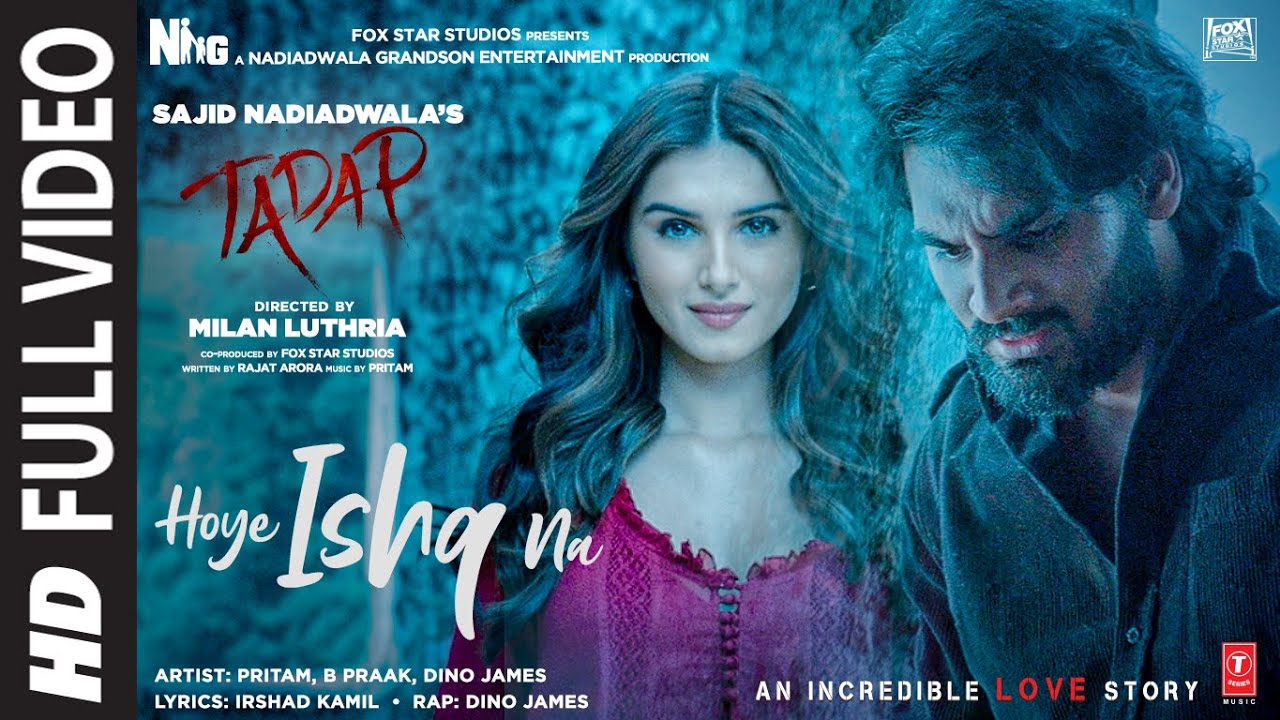 Hoye Ishq Na Lyrics
O dilan marjaaneya … o o o
O dilan marjaaneya
Ishq tu na kariyo zalima
Haath kuch na aayega
Yeh badal ke rakh dega samma
O dilan marjaaneya
Ishq tu na kariyo zalima
O haath kuch na aayega
Yeh badal ke rakh dega samma
Bach sake tu agar
Bachke rehna magar
Mangda rahi tu yeh dua
Hoye ishq na, hoye ishq na, hoye ishq na ya khuda
Hoye ishq na, hoye ishq na, hoye ishq na ya khuda
Hoye ishq na, hoye ishq na, hoye ishq na ya khuda
Hoye ishq na, hoye ishq na, hoye ishq na ya khuda
Main sahi bolun samjha nahi sakta joh bhi andar chal raha hai
Maine sab kuch ishq ke naam kiya aur ab woh mujhko khal raha hai
Yeh teri di barbadi hai joh mere andar pal raha hai
Ishq jaise koi ajgar hai joh dheere se nighal raha hai
Main try karun par kya karun tu jaati nahi hai mann se
Main aaina dekh ke bolta hoon pagal hai kya tu bande
Tere naam ki mehndi udd gayi, teri siyahi ab tak tann mein
Is jag ne mujhko uksaya tabhi maine maare panje
Dikha de koi chor mujhe
Main toota aur na tod mujhe
Taqdeeron se shikayat hai
Saath de aise na chhod mujhe
Yeh thoughts hai mere loud
Main baithke bas chillaun
Ab kisi pe main vishwas nahi karta, khud pe hote doubts
Common tha ab vish main
Apno se bada distance
Socha tha aabaad par barbaad kiya ishq ne
Sulge sulge koylon pe ho nange pairon chalna hai
Jalte jalte bujh jaana, ho bhujte bhujte jalna hai
Sulge sulge koylon pe ho nange pairon chalna hai
Jalte jalte bujh jaana, ho bhujte bhujte jalna hai
Raatein roz sulagti hai
Yaadein rog si lagti hai
Aansun aaye bhi toh roye ishq na
Hoye ishq na, hoye ishq na, hoye ishq na ya khuda
Hoye ishq na, hoye ishq na, hoye ishq na ya khuda
Hoye ishq na, hoye ishq na, hoye ishq na ya khuda
Hoye ishq na, hoye ishq na, hoye ishq na ya khuda
Hoye Ishq Na Lyrics English Translation Meaning
O dilan marjaaneya … o o o
O beloved heart of mine … o o o
O dilan marjaaneya
O beloved heart of mine
Ishq tu na kariyo zalima
Don't fall in love as it's cruel
Haath kuch na aayega
You won't get anything
Yeh badal ke rakh dega samma
And it'll change everything
O dilan marjaaneya
O beloved heart of mine
Ishq tu na kariyo zalima
Don't fall in love as it's cruel
O haath kuch na aayega
You won't get anything
Yeh badal ke rakh dega samma
And it'll change everything
Bach sake tu agar
If you can escape from it
Bachke rehna magar
Then run away from it
Mangda rahi tu yeh dua
Keep praying that
Hoye ishq na, hoye ishq na, hoye ishq na ya khuda
O god, may I never fall in love
Hoye ishq na, hoye ishq na, hoye ishq na ya khuda
O god, may I never fall in love
Hoye ishq na, hoye ishq na, hoye ishq na ya khuda
O god, may I never fall in love
Hoye ishq na, hoye ishq na, hoye ishq na ya khuda
O god, may I never fall in love
Main sahi bolun samjha nahi sakta joh bhi andar chal raha hai
To tell you the truth I can't explain what's happening within me
Maine sab kuch ishq ke naam kiya aur ab woh mujhko khal raha hai
I sacrificed everything for love and now I'm repenting on that
Yeh teri di barbadi hai joh mere andar pal raha hai
You've given me this destruction that's growing in me
Ishq jaise koi ajgar hai joh dheere se nighal raha hai
As if love is like a python that slowly swallowing me
Main try karun par kya karun tu jaati nahi hai mann se
Even if I try, I can't remove you from my heart
Main aaina dekh ke bolta hoon pagal hai kya tu bande
I look at the mirror and ask myself if I'm mad or what
Tere naam ki mehndi udd gayi, teri siyahi ab tak tann mein
The henna of your name has faded but the color of your ink is still in my body
Is jag ne mujhko uksaya tabhi maine maare panje
This world instigated me and that's why I raised my hand
Dikha de koi chor mujhe
Show me the thief in me
Main toota aur na tod mujhe
I'm already broken so don't break me more
Taqdeeron se shikayat hai
I'm upset with my destiny
Saath de aise na chhod mujhe
Be on my side and don't leave me like this
Yeh thoughts hai mere loud
My thoughts are loud
Main baithke bas chillaun
Now I just sit down and scream
Ab kisi pe main vishwas nahi karta, khud pe hote doubts
Now I don't trust anyone and I doubt myself
Common tha ab vish main
I was a common person but now I'm like poison
Apno se bada distance
The distance between me and my dear ones has grown
Socha tha aabaad par barbaad kiya ishq ne
I thought love will make me prosperous but it has destroyed me
Sulge sulge koylon pe ho nange pairon chalna hai
You'll have to walk bare feet on burning embers
Jalte jalte bujh jaana, ho bhujte bhujte jalna hai
You'll die as you live and you'll live as you die
Sulge sulge koylon pe ho nange pairon chalna hai
You'll have to walk bare feet on burning embers
Jalte jalte bujh jaana, ho bhujte bhujte jalna hai
You'll die as you live and you'll live as you die
Raatein roz sulagti hai
Everyday the nights will burn
Yaadein rog si lagti hai
The memories will feel like a disease
Aansun aaye bhi toh roye ishq na
Even with tears in your eyes, love won't cry
Hoye ishq na, hoye ishq na, hoye ishq na ya khuda
O god, may I never fall in love
Hoye ishq na, hoye ishq na, hoye ishq na ya khuda
O god, may I never fall in love
Hoye ishq na, hoye ishq na, hoye ishq na ya khuda
O god, may I never fall in love
Hoye ishq na, hoye ishq na, hoye ishq na ya khuda
O god, may I never fall in love