Gaddi Kaali Lyrics: This brand new Punjabi song is voiced by Jassie Gill and Shipra Goyal. It was released as the part of Alll Rounder album. Kaptaan composed the music and wrote Gaddi Kaali Lyrics. The music is given by Preet Romana PRP.
The song is released under the singer's label.
Singer: Jassie Gill, Shipra Goyal
Album: Alll Rounder
Lyrics: Kaptaan
Composer: Kaptaan, Preet Romana PRP
Label: –
Starting: –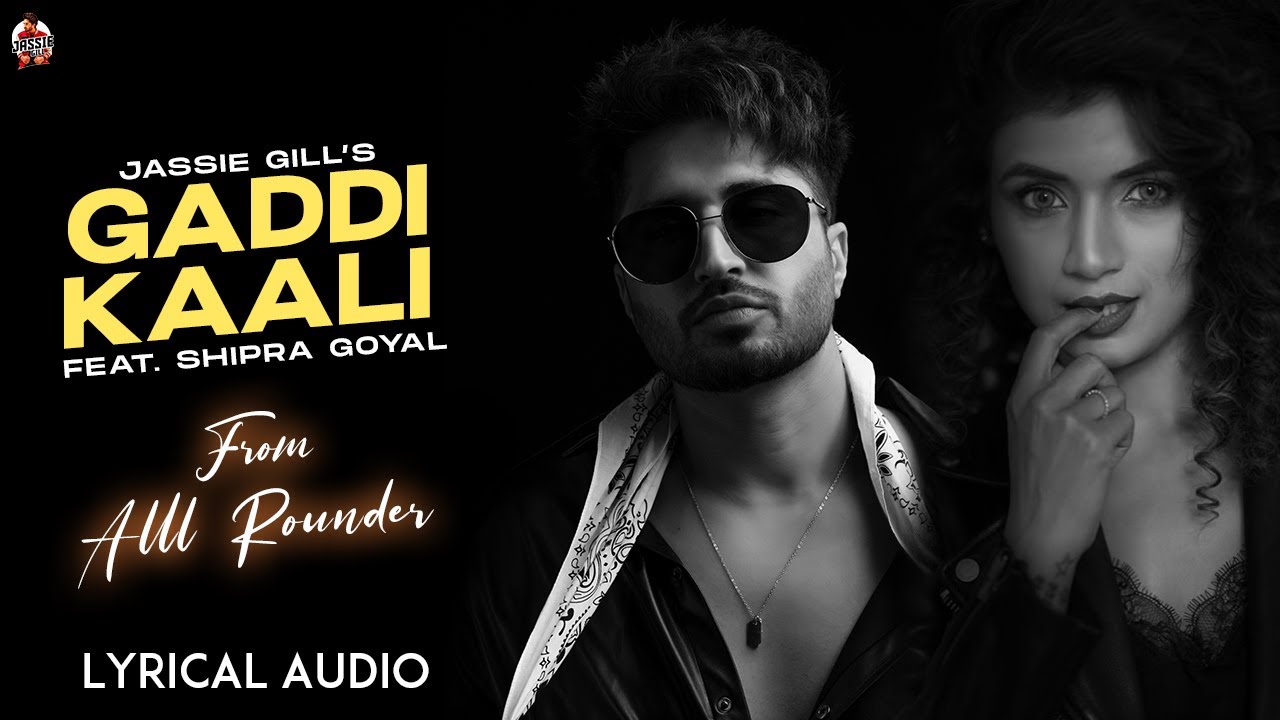 Gaddi Kaali Lyrics – Jassie Gill
Prp!
Gaddi teri kaali kaali
Kaaleyan kamman ch rehndi aa
Tu ikko gori gori gori
Jehdi aihde vich behndi aa
Kaale hathiyar hunde
Kade naal yaar hunde
All black leedeyan ch
Oh taiyar hunde
Rakhne tu hathiyar chhadd
Ghummna tu bahar chhadd
Kaale karobaar chhadd
Main ni kehndi ke tu yaar chhadd
Ni jinni load teri teri
Ohni asle di paindi aa
Gaddi teri kaali kaali
Kaaleyan kamman ch rehndi aa
Tu ikko gori gori gori
Jehdi aihde vich behndi aa
Daily ik hug de jeya tu kar naar nu
Main ni kehndi coffee utte leja mutiyaar nu
Meri ditti watch bhulleya na kar bann ni
Saambh saambh rakhdi aa main vi tere pyar nu
Oh baby one life ae taan hi taan jyona khull ke
Ho down kamm kareya ni jaan ke ya bhull ke
Os hath naal main bandook kade phadi ni
Jehda hath bhejdi tu pyar naal chumm ke
Kaptaan kaptaan ve kaptaan ve
Gall kyun na tere khane paindi aa
Ho gaddi teri kaali kaali
Kaaleyan kamman ch rehndi aa
Main ikko gori gori gori
Jehdi aihde vich behndi aa
Oh munda tainu hasske bulawe hasse tu na
Oh kade unchi boldi te kade bas hoon haan
Oh jaan meri kadh da na kise jogga chadd da
Ni tera kaptaan keha bhole jehe munh na
Ve roule tere loud aa te app rehna mute ve
Kudi taithon mangdi aa pyar da saboot ve
Teri rudeness da proof marjaneya
Hundi news paper'an te pehli teri news ve
Oh dil vich tu goriye tu goriye
Te ankhan te prada reh gaya
Ho gaddi teri kaali kaali
Kaaleyan kamman ch rehndi aa
Main ikko gori gori gori
Jehdi ehde vich behndi aa